The 12 events of Christmas
Check out these family-friendly can't-miss holiday happenings taking place in December throughout the Granite State.
Midnight Merriment
When: Friday, December 6, 2019 from 5 p.m. to midnight
Where: Downtown Concord
More info: https://intownconcord.org/
Shop 'til you drop with thousands of your friends, neighbors, and community members. Enjoy shopping, carolers, the s'mores station, see Santa, "elfie selfies" and more. This is an event for all ages, and it's free.
---
Farmstead Christmas
When: Saturday, December 7, 2019 from 11 a.m. to 3 p.m.
Where: Remick Country Doctor Museum & Farm
58 Cleveland Hill Road, Tamworth
www.remickmuseum.org
Welcome the holidays by stepping back in time. Celebrate this most magical of seasons at the historic Remick Country Doctor Museum & Farm. Stroll the grounds, warm up by the hearth, help decorate the Cattle Barn Christmas tree, decorate and eat fresh-baked sugar cookies and drink fire cider. Explore seasonal exhibits, try your hand at a craft, meet and greet the farm animals, and more.
---
Holiday Art Stroll
When: Saturday, December 7 from 4 to 8 p.m.
Where: Downtown Manchester
www.palacetheatre.org
Take a stroll down Hanover Street for the first-ever Holiday Art Stroll, featuring local artists and galleries. The event is free to the public. One major stop on the tour is the Spotlight Room at the Palace Theatre, featuring up to 10 different local artists and vendors. The Rhythm of New Hampshire Show Chorus will be caroling the night away for your entertainment. Free and open to the public.
---
Santa's Big Party
When: December 7, 8, 14, 15, 21 and 22 —check website for times
Where: Charmingfare Farm
774 High St., Candia
www.visitthefarm.com
Santa Claus is having a big party and you're invited. To get to the party you must take a 30-minute horse-drawn ride through the Christmas trail to the secret party location. Santa will be spinning your favorite tunes and visiting with everyone who attends. Holiday performers and costumed characters will be there, too. Enjoy sugar cookies and hot cocoa around a bonfire.
---
Christmas at Canterbury
When: Saturdays, December 7 and 14 from 3 to 8 p.m.
Where: Canterbury Shaker Village
288 Shaker Road, Canterbury
www.shakers.org
Christmas at Canterbury is a chance to experience the delights of Christmas in a simpler era. Watch an old-time 19th-century magic show, meet Father Christmas, make Christmas-inspired crafts, admire a toy train display or listen to fiddlers. Enjoy hot cider and sing Christmas carols as the Village Christmas tree is lit.
---
Wolfeboro Festival of Trees
When: December 7, 8, 11, 14, 15
Where: Wright Museum
77 Center St., Wolfeboro
www.wolfeborofestivaloftrees.com
The 21st annual Wolfeboro Festival of Trees is a charity benefit featuring more than 65 trees, uniquely decorated by businesses and organizations, and displayed on two levels at the Wright Museum. In addition to the trees, the exhibit features continuous entertainment and light refreshments.
---
Jingle Bell Express
When: Saturdays, December 7 and 14, 10:30-11:30 a.m., noon -1 p.m., 1:30-2:30 p.m. or 3-4 p.m.
Where: Children's Museum of New Hampshire
6 Washington St., Dover
www.childrens-museum.org
Take a magical wintry journey to the Cocheco Country Club in the C&J double-decker bus to hear a reading of the classic children's holiday story, The Polar Express by Chris Van Allsburg. Enjoy refreshments, receive a keepsake gift and a visit from a special guest. Pajamas are welcome! Tickets includes a digital family photo, time to explore the Museum and a make-and-take holiday craft. New this year: Sensory-friendly trip offered on December 7 at 1:30 p.m.
---
Rockapella
When: Friday, December 13 at 7 p.m.
Where: Stockbridge Theatre
Pinkerton Academy, Derry
437-5210
www.stockbridgetheatre.com
Returning to the Stockbridge for their 17th performance, Rockapella has become one of the world's most sophisticated, lasting, and imitated vocal groups around. Since they first achieved fame on PBS's "Where In The World Is Carmen Sandiego?" they've toured the globe and provided a funky powerful soundtrack to several generations of vocal music fans, while keeping it all fresh along the way.
---
Currier & Ives Cookie Tour
Where: Saturday, December 14, 11 a.m. to 4 p.m.
Where: Various locations in the Monadnock Region.
Check website for map: www.currierandivescookietour.com
Kick off your holiday season with the 15th annual Currier & Ives Cookie tour. Visit businesses to see how they dec-
orate for Christmas and what they have to offer throughout the year. At each stop you will enjoy a homemade treat and refreshment. (Recipe cards provided.) A portion of the proceeds will be donated to End 68 Hours of Hunger.
---
Christmas at Hogwarts
When: Monday, December 16 and Tuesday, December 17 at 8 p.m.
Where: Seacoast Rep
125 Bow Street, Portsmouth
www.facebook.com
It's Christmas at Hogwarts — floating candles adorn the Great Hall, the Yule Ball is fast approaching, and somewhere a Hufflepuff is missing their mom. Join Stranger Than Fiction Improv & Comedy on a completely improvised romp through the magical world of J.K. Rowling. Mystical creatures, whimsical spells, dangerous secrets, and holiday joy await.
---
Boston Pops Holiday Concert
When: Saturday, December 21 at 7:30 p.m.
Where: SNHU Arena
555 Elm St., Manchester
www.snhuarena.com
The Boston Pops will perform their signature Sleigh Ride, as well as other holiday classics, and new arrangements of seasonal favorites. They will be joined by the Metropolitan Chorale. Santa Claus himself will make a guest appearance during the concert's finale followed by the traditional Boston Pops Holiday sing-a-long to bring the evening to a close.
---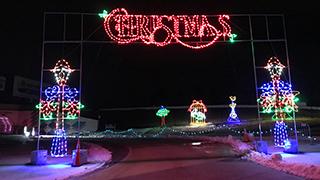 Gift of Lights
When: Thanksgiving through Jan. 5
Where: New Hampshire Motor Speedway, Loudon
www.nhms.com
It's that time when New Hampshire Motor Speedway trades in the checkered flags for two million twinkly lights. The Gift of Lights, celebrating its ninth year, has become a family tradition. The 2.5-mile drive-thru light show features 520 displays, 80 different scenes, s'mores pit and photos with Santa.